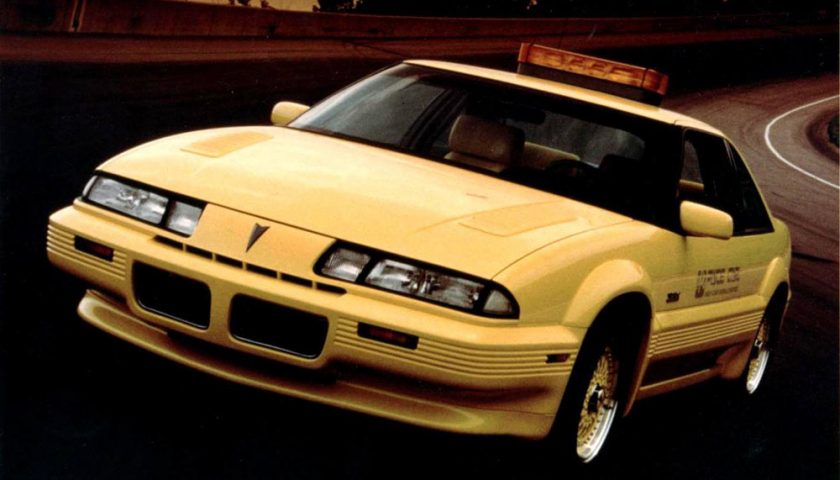 Pontiac McLaren Turbo Grand Prix – 1989 PPG Pace Car
Built by McLaren ASC in the U.S.- not the same McLaren that builds exotic supercars.
History
The 1990's were an exciting era for Pontiac, introducing a powerful (for the era) lineup including the Grand Prix GTP, Bonneville SSEi, Firebird WS6… the Grand Am even received a 180 HP Quad 4 for a couple years. Before the Grand Prix GTP was given GM's 3.4L V6 "Twin Dual Cam" LQ1 engine in the 90's, Pontiac experimented with a turbocharged version of the 3.1L V6 in, with the help of McLaren.
This model's 3.1-liter V-6 was built with a special crankshaft, 8.65-compression pistons, a high-capacity oil pump and oil cooler, and a water-cooled Garrett T25 turbocharger with intercooler, bringing a then-impressive 205 hp at 4,800 RPM and 220-lb.ft. of torque at 3,200 RPM. Allied to a standard four-speed automatic with high-capacity clutches and torque converter, this engine pushed the 3,500-pound car to 60 MPH in 7 seconds, and could go on to 128 MPH.
The Turbo Grand Prix came with wider 16″ wheels/tires and the Y99 suspension. The McLaren Turbo package was a $5000 option added to the Grand Prix SE.  With a base price of $22,000 (that's about $45,500 in 2019 dollars) not many were sold and 1990 was the second and last year they were produced.
Specifications
The Turbo Grand Prix wore pearlescent yellow paint and sat on matching 16×8 BBS RSII Wheels wrapped in Goodyear Eagle tires. The seats and interior were finished in custom yellow leather. At one point a 4th rear brake light was added below the trunk lid. Other modifications are unknown, but surely included the usual safety features such as a fuel cell, water cooled brakes, halon fire suppression system and safety harnesses. This car was loaded with advanced technology at the time, including: Heads-Up display on the windshield, steering wheel controls for the audio system, ABS, and a color display with calendar, clock, and an animated compass which rotates around an image of the vehicle.
Current Status
The custom painted BBS wheels were sold at a liquidation auction in the late 90's, but the rest of the car is unaccounted for. I'm told that the car went back to GM after its pace car duty.