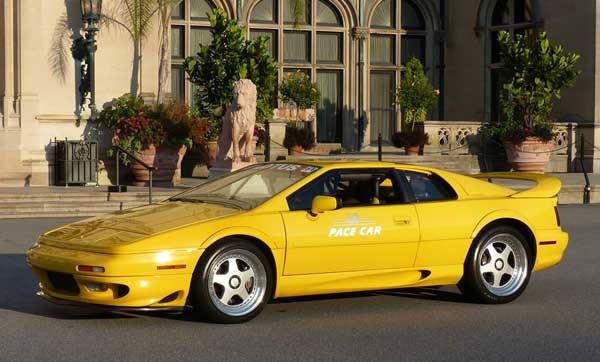 Lotus Esprit – 1997 PPG Pace Car
Now privately owned, this Lotus Esprit Pace Car is street legal. 
History
This Esprit was used by the PPG CART IndyCar organization as a PPG Pace Car for races during the 1997 and 1998 seasons.  It was the only CART IndyCar pace car that could pace the field at Michigan International at 150 MPH. The car was also part of the Lotus display at the 1997 Detroit Auto Show. 
Specifications
This car was originally painted in an iridescent black/gold color for the 1997 season.  It was repainted the current yellow for the 1998 season to show better on TV.  Underneath the yellow is a translucent green. In Noonday sun, it is pure yellow.  In fading light and at certain angles, green can be seen in the yellow.  The Esprit is powered by a 3.5 liter 32-valve DOHC V8 twin-turbo, hand assembled and balanced by Lotus. The exhaust system has straight pipes from the turbos – no mufflers. The ECU program is unique to this car, ECU #L0960001. The car has no EGR, air pump or catalysts. A full roll cage extends from axle line to axle line and attaches to the frame at each end. The cage is replicated from the championship-winning X180R Esprit factory race cars. Inside, you'll find Sport 300 racing style fixed back seats with 4-point driver and passenger racing restraints. The Esprit rides on Adjustable coil-over Spax shocks and factory OZ Racing Futura Wheels.
Current Status
While this Esprit was prepared for track use and sold on a bill of sale, it is now fully street legal in Pennsylvania, registered as a Specially Constructed vehicle. The current owner uses the car for fun drives, car shows and it will likely see some track days. It was at LOG34 in Ashville, NC in 2014.
The car has extensive documentation from both Lotus and PPG, from the initial correspondence to the project Gantt chart to build and equip the car to the press releases and bills of sale between Lotus and PPG. Lotus sold the car to PPG for $1.00 in early 1997 and it was sold back to Lotus at the end of the season.  That was repeated for the 1998 season.
Information above found on:  http://www.lotusespritworld.com/EOtherstuff/PaceCar_Esprit4Sale.html