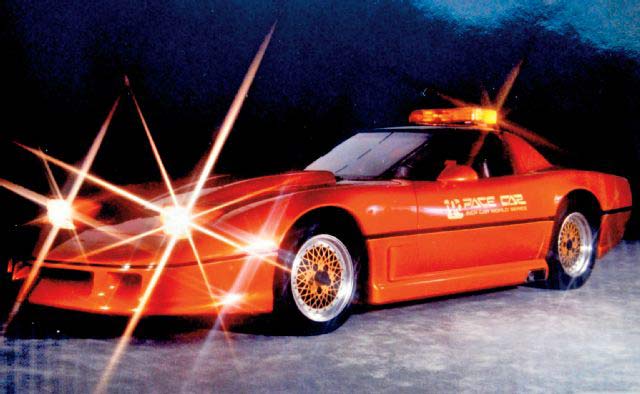 Chevrolet Corvette – 1984 PPG Pace Car
Also known as the "Sinkhole Corvette" since 2-12-2014
History
The 1984 Corvette has been a part of the National Corvette Museum since PPG donated the car to the museum at its opening in 1994.
On February 12th, 2014, a sinkhole beneath the Skydive display of the museum caused the floor to collapse, taking 8 of the Corvettes underground with it. While some were able to be repaired, the PPG Pace Car landed upside down and was heavily damaged by a large slab of concrete falling in the middle of the car. Because of the PPG Corvette's amount of custom one-off body parts (only the roof panel and doors were original Corvette parts) the damage was too extensive to be repaired and the NCM currently displays the car as-is in its damaged state.
Specifications
The 1984 Corvette was finished in Deltron Acrylic Urethane Orange Glow Candy over gold base and the one-off custom body work was created by Diversified Glass Products. The 205 HP Cross-Fire Fuel Injected 350 was replaced by a 450hp, 401 cubic-inch V-8, built by Katech, mated to a BorgWarner T5 5-speed transmission, featuring a modified overdrive. The power was heard by all, thanks to long tube headers and a custom side exit exhaust. The high performance chassis, designed by George Foller, featured coil-over shocks at all four corners. Once the PPG Indy Pace Car was finished the final assembly was completed by Triad Service Inc.
Current Status
On display at the National Corvette Museum in Bowling Green, Kentucky.