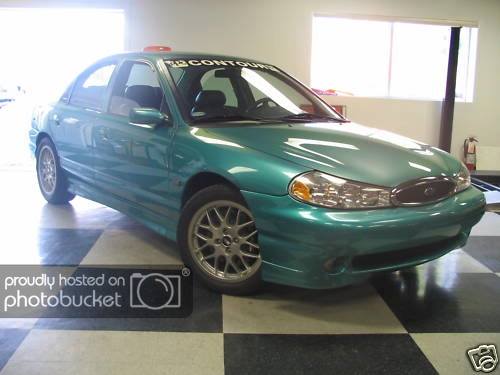 Ford Contour SVT (Green) – 1998 PPG Pace Car
The least internet-famous of the three Contour SVT PPG Pace Cars.

History
The Mystique Green Contour SVT is the least documented of the three Contour SVT PPG Pace Cars. It has previously been listed for sale on ebay, although its current whereabouts are unknown.
Specifications
This SVT Contour has a lowered suspension by Koni and rides on 17×7.5 ET35 BBS RX wheels with 235/45/ZR17 tires. While the Gold Contour SVT's engine is said to have been tuned by Jack Roush, there is no documentation of any modifications to this Contour's engine.  Note the SuperTrapp mufflers peeking out from the rear bumper – proof the car was modified in the late 90's. The brakes have been replaced with Brembos. Halon fire suppression system, fuel cell and strobes have been installed. Like the Mystique Purple Contour SVT, the Mystique Green one also lacks the custom roll bar and safety harnesses that the Gold Contour SVT received.
Current Status
Unknown.