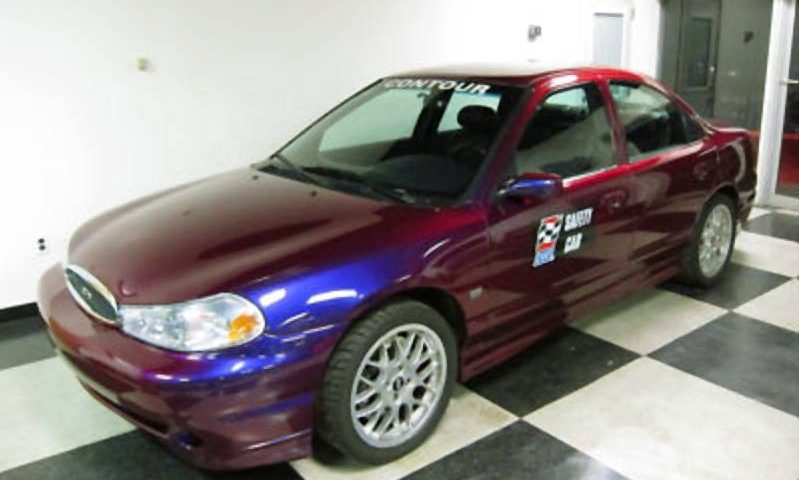 Ford Contour SVT (Purple) – 1998 PPG Pace Car
One of three Contour SVT PPG Pace Cars. This one features 3-Stage iridescent purple paint.

History
The Purple Contour SVT has surfaced for sale a few times on the internet, and is currently said to be owned by a private collector.
Specifications
This SVT Contour has a lowered suspension by Koni and rides on 17×7.5 ET35 BBS RX wheels with 235/45/ZR17 tires. While the Gold Contour SVT's engine is said to have been tuned by Jack Roush, there is no documentation of any modifications to this Contour's engine.  The brakes have been replaced with Brembos. Halon fire suppression system, fuel cell and strobes have been installed. The Purple Contour SVT lacks the custom roll bar and safety harnesses that its Gold brother received.
Current Status
Now privately owned, the last reference of it being for sale is this Jalopnik article from 2012. It had 24,886 miles at that time. I found another listing of the Contour SVT, at a much higher $24999 price, although there is no date on the listing to know when it was listed or sold.
I recognize the checkered floor in the photos and caught a glimpse of the Dodge Stealth PPG Pace Car in the background, which appears to be the building of Group A Wheels in Hauppauge, New York. (They also have the 1999 Mustang Cobra PPG Pace Car for sale at the time this page was added.)