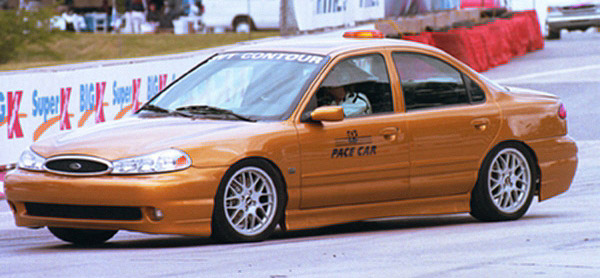 Ford Contour SVT (Gold) – 1998 PPG Pace Car
One of three Contour SVT PPG Pace Cars, chassis build # 0007 wears custom PPG Gold paint.

History
Built by Jack Roush for the Champcar PPG Indycar Series, this particular Contour SVT Pace Car #0007 has reached celebrity status, being driven by Danica Patrick! The #0007's Mystique Purple twin surfaced on Jalopnik. The Mystique Green Contour SVT Pace Car has been for sale in the past as well.
Specifications
This SVT Contour has a lowered suspension by Koni and rides on 17×7.5 ET35 BBS RX wheels with 235/45/ZR17 tires. The front sway bar was replaced with a smaller one, to reduce understeer. The engine is said to have been tuned by Jack Roush, but the exact modifications and horsepower are unknown. The clutch was upgraded, along with a lighter, aluminum flywheel.  The front brakes have been upgraded and the usual safety equipment, including roll bar, safety harnesses, halon fire suppression system, fuel cell and strobes have been installed.
Current Status
As of 2011, the Gold Contour SVT Pace Car became privately owned by an enthusiast.