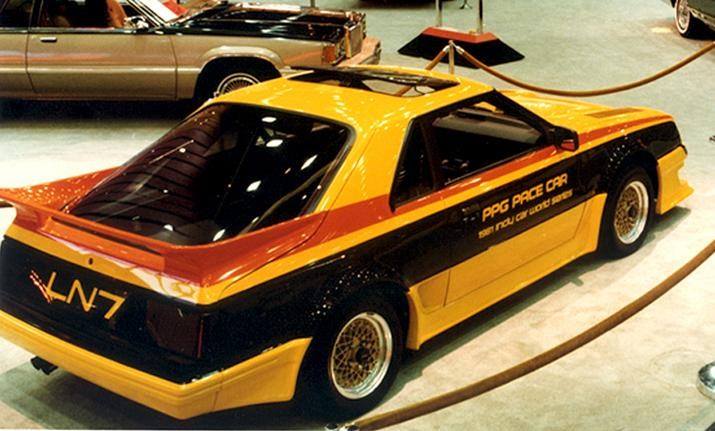 Mercury LN7 – 1981 PPG Pace Car
Jack Roush, SVO and ASC got together to build this one-off, turbocharged LN7.
History
Unknown.
Specifications
It featured a dramatic front chin spoiler, brake-cooling ducts just ahead of the rear wheels, and a wrap-around rear spoiler all provided by ASC (American Sunroof Company) and Ford. The power plant was an early turbocharged version of the 1.6L CVH built by Jack Roush and Ford's SVO, featuring a reworked version of the factory 2-barrel carburetor, TRW cold-forged pistons for 8.5:1 compression, polished factory connecting rods, ported head milled down .06″ on top a European 1.6L CVH head gasket, 3-angle valve seats, a turbocharger adding just 8psi, and water-alcohol-injection all adding up to 7,000RPMs (electronically limited) of 180 horsepower. The transmission is a factory Escort/Lynx/EXP/LN7 4-speed manual transmission blue-printed with extreme care and tight tolerances at an aircraft level allowing it to handle both the 180 horsepower, 7,000RPMs of input, and top speeds around 125mph. (From Wikipwedia)
Current Status
The Mercury LN7 is owned by Jack Roush and displayed at his museum in Livonia, MI. Other PPG Pace Cars live there as well.