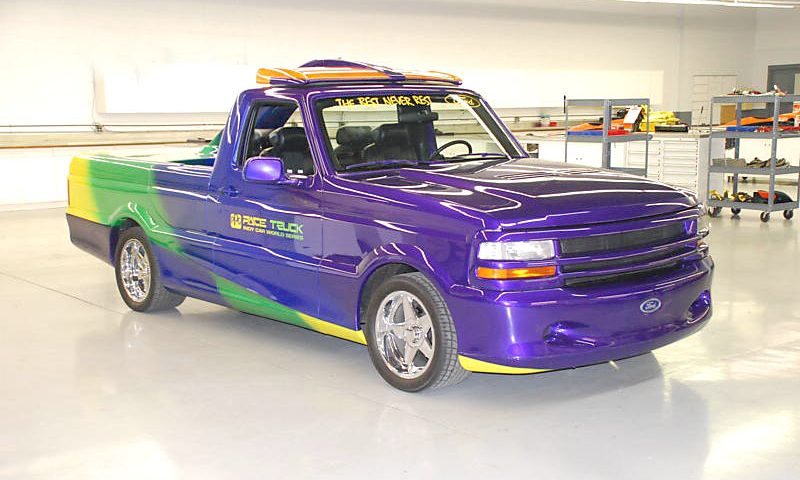 Ford F150 Sport Boss – 1991 PPG Pace Truck
When Roush and McLaren get together for a build, you end up with a 500 HP F-150 with rear facing seats.
History
Nicknamed the Sport Boss, this production F-150 was taken to the next level by Jack Roush and McLaren Performance Technologies of Livonia, MI. (This was the same McLaren responsible for the Buick GNX, Mustang ASC McLaren and Pontiac Grand Prix Turbo – not McLaren Automotive, who builds F1 & super cars in the UK.) The estimated cost to build this truck was a quarter million dollars in 1991. Adjusted for inflation, that's $466k in 2019. Because it started life as a production vehicle, this one-of-a-kind F-150 has a VIN (1FTDF15Y3MLA14421) with clear title.
The F-150 was used in the PPG IndyCar World Series from 1991 to 1994. Since then it has seen an auction, and is currently for sale at the time of this posting.
Specifications
Let's start with the Purple/Green/Yellow custom paint – it wasn't always that color. The truck started out with a White/Purple/Red color scheme in 1991-1992, pictured below. It wasn't uncommon for PPG to repaint a vehicle during the lifespan of its pace car duties. The exact name of the final color is Ultra Violet Poly fading to Dark Cloisonne Poly, Samba Green Pearl and ending in Competition Yellow Mica.
The truck sits on 18″ AZEV Type-A wheels, which was a very large wheel back in 1991. Some photos show these in a chrome finish, while some are painted yellow. (PPG kept multiple sets of mounted/balanced wheels/tires on hand for their Pace Cars.)
The 500 HP 395 cu. in. (some sources say it's a 5.0 liter) engine by Roush features Trickflow heads and intake and is mated to an automatic transmission.
The brakes are water cooled, as many of the PPG Pace Cars were. The F-150 also receive the other standard safety features such as a roll cage, fuel cell, fire suppression system, and strobes.
Now let's talk about the body… everything is completely custom, from the bumpers, side panels, light covers, grill, vented hood and last but not least, the rear tonneau with cutouts for rear-facing seats with a giant arched integrated roll bar in the middle. Access to the rear seats? There's a built-in door on each side of the bed that folds down into a step. The 250k cost to build is starting to make more sense now. No expenses were spared on the design and construction of this F-150.
The interior was also customized with leather, painted accents and 4 bucket seats with racing harnesses.
Current Status
The F-150 is currently listed for sale here, but does not show a price, or a date it was listed. The truck was featured in this 2013 article with a price of only $20k.
Update 8-19-19: $20k was too good to be true… Here's a current for sale ad (and many Photos) of the F150.
Here's a walk around video of the F150: https://youtu.be/b2gkyQeOhTo