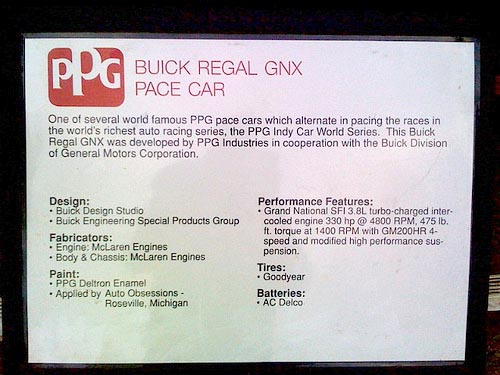 Buick Regal GNX – 1987 PPG Pace Car
No photographs of this car could be found, except for the original sign.  
History
There's no solid information on this PPG Pace Car, except for a photo of the sign. Supposedly it was turned into an IMSA car after its career as a pace car was done. A member of TurboBuick.com purchased the sign, along with some other GNX parts from a buyer in Michigan, and found "PPG GNX" hand written on some parts, leading him to believe he purchased parts from the original GNX PPG Pace Car. I was told by a former PPG employee that this car had no VIN and was auctioned once PPG was done using it in the Pace Car fleet.
Specifications
Unknown.
Current Status
Unknown, but most likely parted out.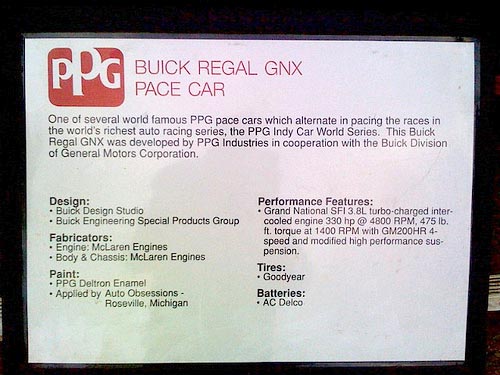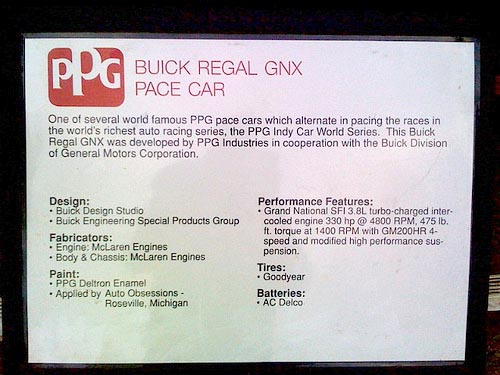 Update 3/26/19 Special thanks to Pascal Michels for sharing these photos containing the Buick GNX PPG Pace Car: