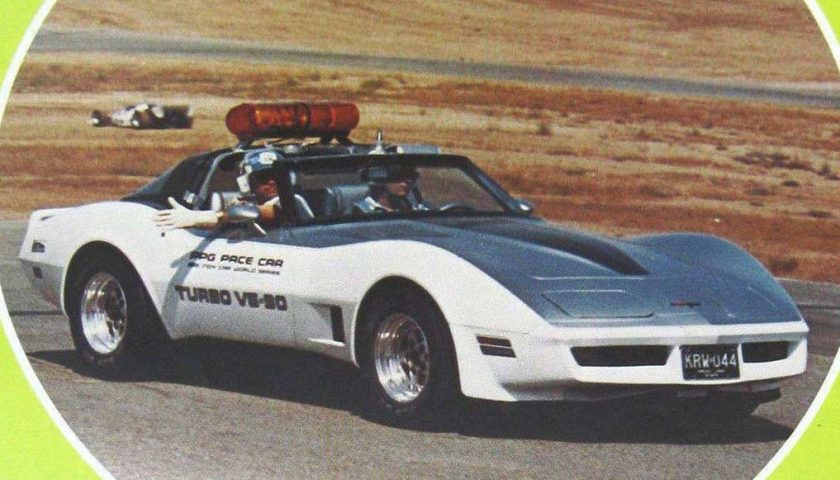 Twin Turbo V6 Chevrolet Corvette – 1981 PPG Pace Car
This prototype made over 100 more horsepower than the production 350 V8.
History
The oil crisis of the 70's led the Big 3 to kill off big blocks and build smaller cars for better fuel economy. This Corvette prototype's performance was ahead of the production V8, but ended up being a one-off prototype. The car was painted white, silver and charcoal.
Specifications
A 90° V6 was bored to 4.00 inches and fitted with an 18° offset cam from a 229 cu. in. engine, bringing displacement to 262 cu. in.  L82 V8 pistons were dished to give 8.25:1 compression. Factory 229 rods, oil pump (with 60 psi relief spring installed) and oil pan were used. Aluminum heads and head studs, were used along with a marine cam which was the equivalent of the LM-1 V8 hydraulic cam.
The intake was a stock 2-barrel from a 1978 200 cu. in. V6 with a computer controlled 2-barrel throttle body injection, providing a custom fuel curve. Two Warner-Ishi RHB-6 turbochargers with P18 turbine housings and 406BZ-2 compressors fed air to the engine. Twin turbo was used instead of a single unit to help throttle response. The turbos had build-in wastegates and the rest of the exhaust was factory for the 81 Vette, except for the catalytic converter which was the less restrictive '82 version.
On premium fuel, this setup made 270 HP at 7 pounds of boost and 300 HP at 9 pounds of boost. (An additional 30 could be gained if the cat was removed.)
The transmission was the TH700-R4 4-speed overdrive and the rear end uses 2:73:1 gears.
In addition to the custom paint job, the exterior was also given gold Gotti J55A wheels.
Doing 0-60 in 6 seconds and the 1/4 mile in 14 seconds, this prototype smoked the production Corvette, whose 350 V8 made only 190 HP.
Current Status
Unknown.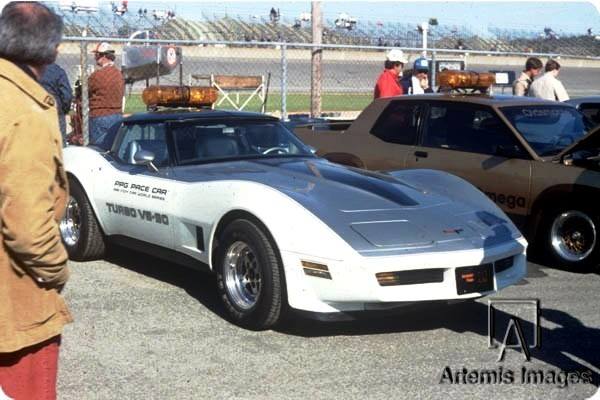 Parked beside the Oldsmobile Omega