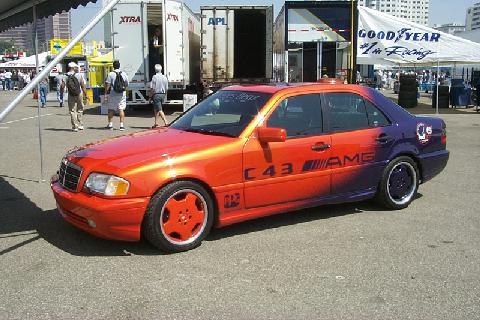 Mercedes Benz C43 AMG (Orange/Purple) – 1998 PPG Pace Car
1 of 2 nearly identical C43 Pace Cars. Unfortunately, this one is no longer with us.  
History
In 1997, Mercedes-Benz commissioned AMG to produce two special versions of their C43 V8 cars for use as pace cars in the CART-FedEx Indycar championship series. The two were specially prepared, then shipped to PPG, where they were stripped, mechanicals removed, then painted. This car was painted metallic orange to purple and spent time on the track, while the other was painted purple to metallic orange and never had strobe lighting added for track use. At the end of 1998, both cars were returned to Mercedes-Benz. The orange to purple car was dismantled and scrapped. The purple to orange car found its way into a private collection.
Specifications
Unknown.
Current Status
Unfortunately, the orange to purple C43 Pace Car was dismantled and scrapped.