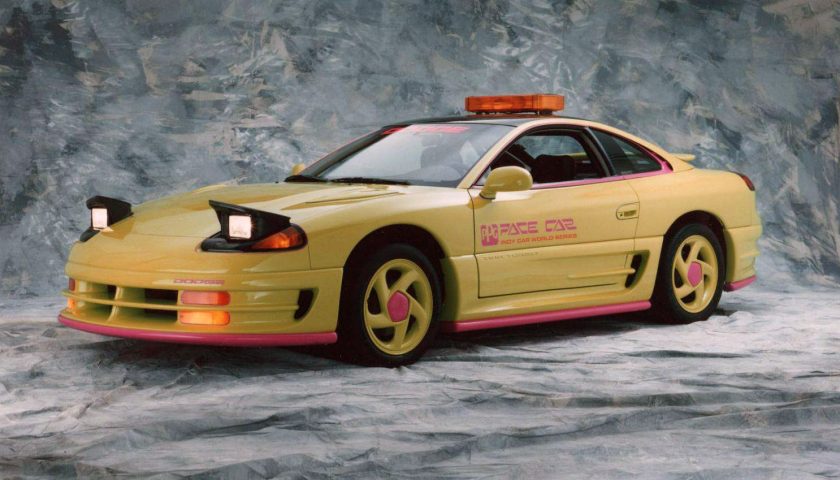 Dodge Stealth – 1991 PPG Pace Car
"Ain't no Jap car gonna pace MY Indy 500!"

History
The Stealth, introduced in 1991 as a replacement for the Mitsubishi Starion-based Conquest, had plenty of performance-car bonafides: Its twin-turbocharged and intercooled version of the dual overhead-camshaft 24-valve 3.0-liter V-6 put out 300 horsepower, more than what one found in a contemporary base Corvette; its all-wheel-drive system propelled it to a sub-five-second 0-60 time; and its 0.33 coefficient of drag bests that of a Ferrari F40.
Although its styling was brewed here in 'Murica, The Dodge Stealth's chassis and drivetrain was borrowed from the Mitsubishi 3000 GT. The 1991 Stealth was chosen to pace the Indy 500 but due to outcry from the UAW and patriotic race fans, Chrysler had to shelf the Stealth at the last minute and bring a Dodge Viper prototype to Indianapolis instead. (The Indianapolis 500 has never used a pace car from a foreign manufacturer.) The Viper was driven by Carroll Shelby for maximum patriotism, short of a bald eagle riding shotgun.
Specifications
The Dodge Stealth PPG Pace Car is unique from the Official Indianapolis 500 Pace Cars and also the production replica Indy Pace Cars sold to the public. The PPG Pace Car received one-off custom front & rear bumpers and side body panels, in addition to all of the standard safety gear that the PPG Pace Cars received.
Current Status
The PPG Dodge Stealth Pace Car was sold off in 2008, when Champ Car went bankrupt, and was most recently owned by Group A Wheels in Hauppauge, New York.