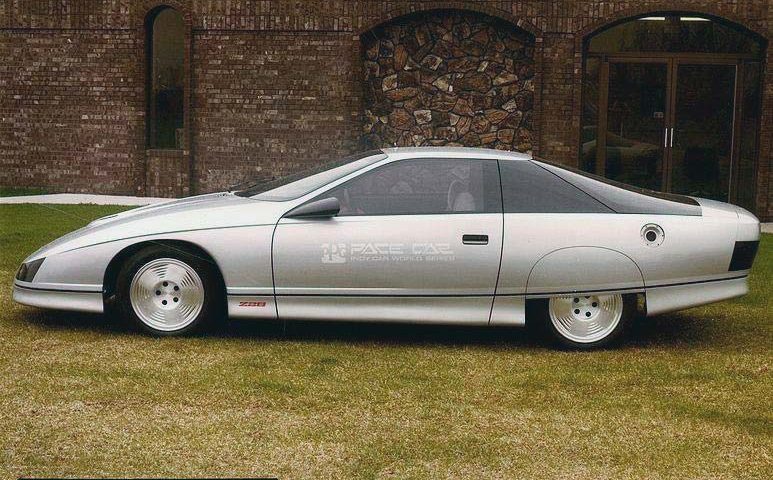 Chevrolet Camaro Z28 Concept – 1983 PPG Pace Car
Students of the Art Center College of Design created this one-off, functional concept car. 
History
As part of its sponsorship to the CART Indy Car World Series, PPG worked with the big 3 (and the now deceased American Motor Company) to bring new and exciting pace cars for each new racing season. No expenses were spared in the early-to-mid 80's, as many of the pace cars were custom one-off creations, developed and engineered to perform as well as they looked.
Given the chassis of a 1983 Camaro, the senior class of the Art Center College of Design was given the ultimate opportunity – to design a concept car! Students' ideas were narrowed down to three final concepts, each of which had a 1/5 scale clay model created. Jerry Palmer, Chief Designer for Chevrolet II Design Studio and designer of the '84 Corvette, along with Jack Schwartz, a stylist of PPG's Automotive Finishes Group, picked the final design. PPG financed the pace car's construction by Synthetex, of Detroit.
The car was first unveiled to the public at the 1983 Los Angeles Auto Expo, before it went on to perform at the CART series.
Specifications
Powered by a ram-air fed 350 cu. in. engine, the chassis and suspension are factory Z-28 components. The custom 16″ wheels wear the same Goodyear tires found on the Corvette.
Current Status
Unknown. I believe it's still alive though, based on a warehouse photograph with a group of other PPG pace cars, most likely taken in the mid-to-late 90's.
Please let me know if you have any information on this vehicle, as I'd love to add it to this page!
March 2020 update – The person who restored this car in 2007 told me that it's likely in a private collection somewhere in California.