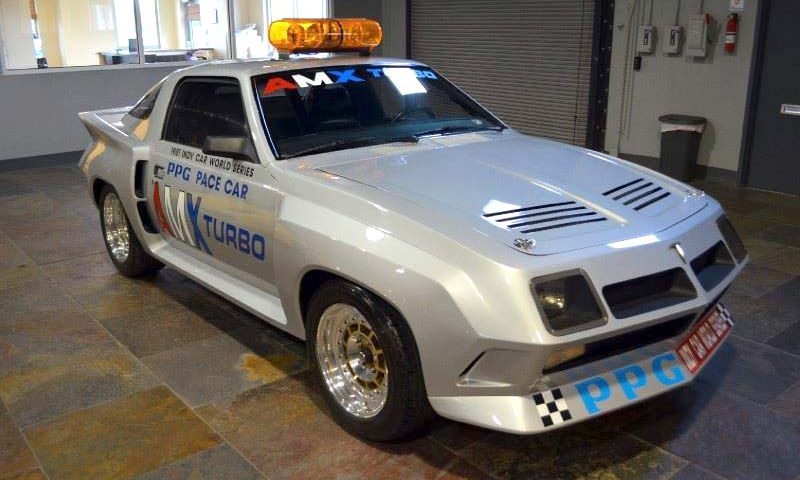 AMC AMX Turbo – 1981 PPG Pace Car
This one-of-one custom AMX, based on the Spirit, featured a turbocharged & fuel injected inline 6, producing 450 HP.
History
This exclusive, one of a kind, AMX Turbo appeared throughout the US in 1981 as one of the five official pace cars for this 14 race series. The AMX Turbo made its debut as the official pace car for the Milwaukee 150 on June 7th, 1981. All five 1981 pace cars were funded by PPG Industries to help create one pace car for each of the major American car companies to develop a concept vehicle based on existing production models of that time. The transformation was completed by Autodynamics or Troy, Michigan. This AMX Turbo was the pace car built for AMC and later personally owned by AMC Vice President of Design, Richard Teague.
Specifications
Based on the Spirit, this custom fiberglass bodied AMX featured wider fenders, a one-off front and rear facia, large spoiler and wrap around rear glass. Under the louvered hood sat a 258 cu-in inline 6, producing 450 HP using a turbocharger setup by Turbo-Systems Inc. making 18 psi of boost and Porsche fuel injection. It featured a unique ram air induction system designed into the rear quarter panel. It rides on 16″ Gotti 75Ba wheels wrapped in Goodyear Eagle GT tires. This car measures 164 inches long and 72 inches wide with a wheelbase of 96 inches.
Current Status
Privately owned in Florida, the AMC AMX went up for auction on ebay in 2013, but did not meet reserve, despite the bids reaching $34.5k.  It was re-listed, but received less bids the second time around. It had only 4,069 miles at that time. Current whereabouts of the car are unknown.
2121 Update: The car has been listed for sale once again, this time for $69,988. The odometer now shows 5,286miles.