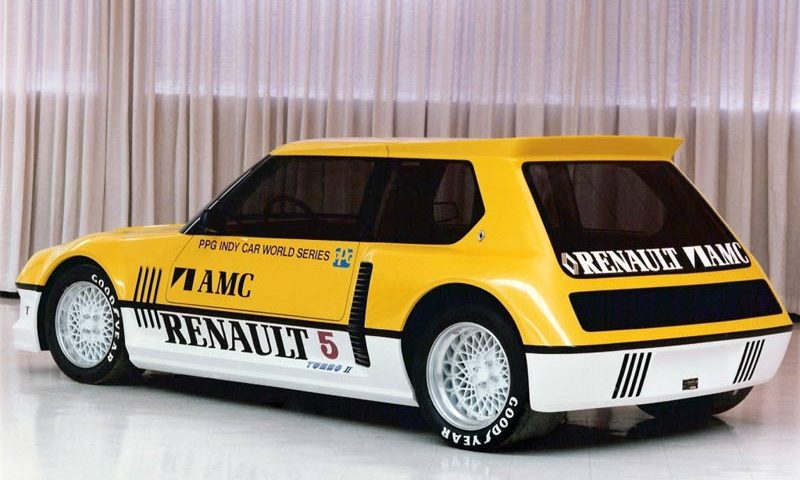 AMC Renault 5 Turbo II – 1982 PPG Pace Car
This wide body, French Pace Car survived, was fully restored, and sold.
History
The automotive manufacturers chosen to pace the 1982 Indy Car World Series were GM, Ford, Chrysler and AMC. (There were already two AMX PPG Pace Cars from 1980 and 1981.) AMC had been around since the 1950's but never grew to the size of the Big 3. After sales slumped, French automaker Renault acquired a major interest in AMC in 1979-80, before Chrysler would purchase AMC as a whole in 1985. 
In 1982 AMC offered the Jeep, Eagle, Spirit, and Concorde, which were all built in the US. The merger with Renault brought some re-badged models over from France, including the LeCar, 18, and Alliance. But rather than work with any of those models, AMC decided this Pace Car would be based on the Renault 5 Turbo, which was never offered in the US. There were other Renault Pace Cars, the Aero Wedge Turbo and the Alpine– which was only badged as Renault, not AMC.
Specifications
The custom widened body had enlarged wheel arches to allow larger BBS wheels.  The body also  features a lowered roof and uses gullwing doors, with some parts from a Delorean Dmc-12.  Some of the suspension components  are the same Renault Racing used on it's IMSA GTU competition version of the 5 Turbo, with notified shocks for a lower ride height. The Pace Car is powered by the original fuel-injected 160 HP turbocharged/intercooled 4 cylinder mounted in the rear. The rear hatch was quickly removable to allow access to the engine and transmission. 
Current Status
The Renault 5 Turbo II PPG Pace Car has been fully restored and was part of The Madison Zamperini Collection before being sold.