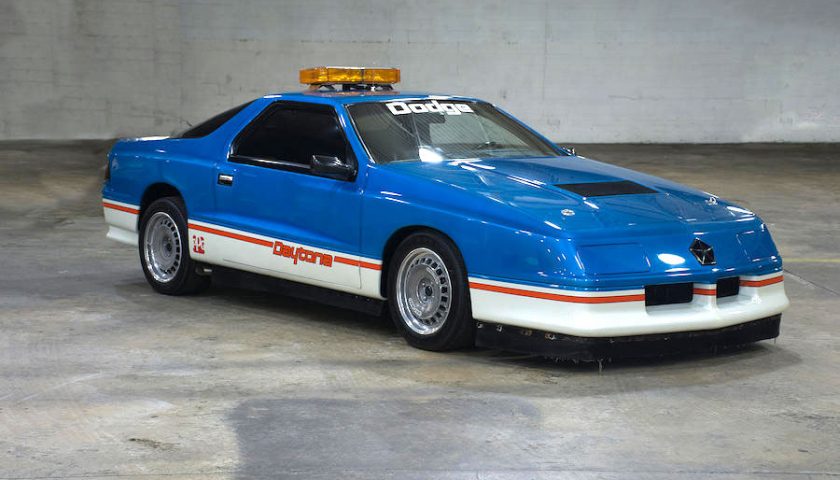 Dodge Daytona Turbo Z – 1983 PPG Pace Car
This Daytona reached a top speed of 173 MPH, powered by a boosted 2.2L.
History
A collaboration between Chrysler and PPG brought this Daytona prototype to life. It was the only one created. The engine & chassis fabrication was completed by Specialized Vehicles, Inc. The body was done by Autodynamics, the interior by Concours Interiors, and the Deltron Enamel paint came from PPG. The car was painted and assembly by Bill Bizer & Associates of Detroit, MI.
Specifications
Since the famous G platform of the Daytona wasn't placed in production yet, the PPG Indy Pace Car had to be moulded and crafted from the older K platform.
The rear doors were given the axe, and the front ones were lengthened by almost three inches. The roofline was lowered by one inch, and the entire car was placed in a wind tunnel to test the aero.
The factory 2.2L block pushes 225 HP with the help of a turbocharger and intercooler. Other engine modifications are unknown. The car has a 5-speed transmission.  The brakes and suspension were also modified, but details are unknown. The Magnesium Ronal wheels were wrapped in Goodyear tires.
Current Status
It was listed for sale on BringATrailer.com in 2015, with an asking price of $55k, later dropped to 35K. It is currently owned by a private collector.