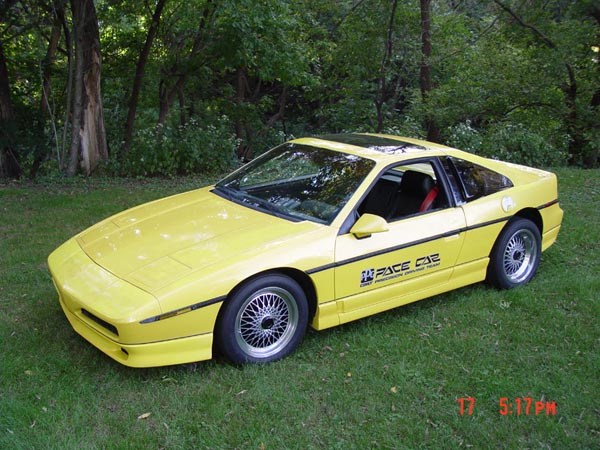 Pontiac Fiero GTP (Yellow) – 1985 PPG Pace Car
One of six 1985 Fieros on the PPG Pace Car Team. 
History
The 1985 Fieros served in the 1986 and 87 CART Indy Car seasons. Once retired, 5 of the 6 were donated to automotive tech schools, as PPG Pace Cars sometimes were after their mission had been fulfilled.
Specifications
The Fieros received custom made body panels including a restyled front bumper, wider fenders, longer sail panels which allude to the 1986+ Fiero's styling, ground effects that wrapped all the way around the vehicle, as well as filler panels on the lower doors to match. An integrated spoiler hangs over the slanted rear lights. The redesigned body panels not only made the car look aggressive, but also were designed to add stability at high speeds. The rear side windows were redesigned and moved further back to make way for air scoops.
Wider 16×7 and 16×8 Remotec wheels wore Goodyear Eagle 205/55VR16 and 225/50VR16 tires.
The 1985 Fieros started as GT's with the 2.8L V6. That 2.8 was punched out to 3.0L and fitted with a custom cam, higher compression pistons, beefier rods, enlarged oil galleys, and a larger oil pan. A free-flowing exhaust also increased power output, although the exact horsepower is unknown. A fuel cell was placed in the front storage compartment.
Adjustable Koni shocks, stiffer springs, upgraded sway bars, crossmember, control arms, and bushings brought the suspension up to spec for track use. The axles, knuckles and entire brake assembly were upgraded with parts from the larger Pontiac 6000 STE.
The interior received the usual Pace Car upgrades including custom leather accents, racing seats, harnesses, and a fire suppression system.
Current Status
The Yellow Fiero PPG Pace Car is owned by Fred Bartemeyer Jr, who also owns the White Wide Body, Blue, and Red Fiero PPG Pace Cars. What a collection!