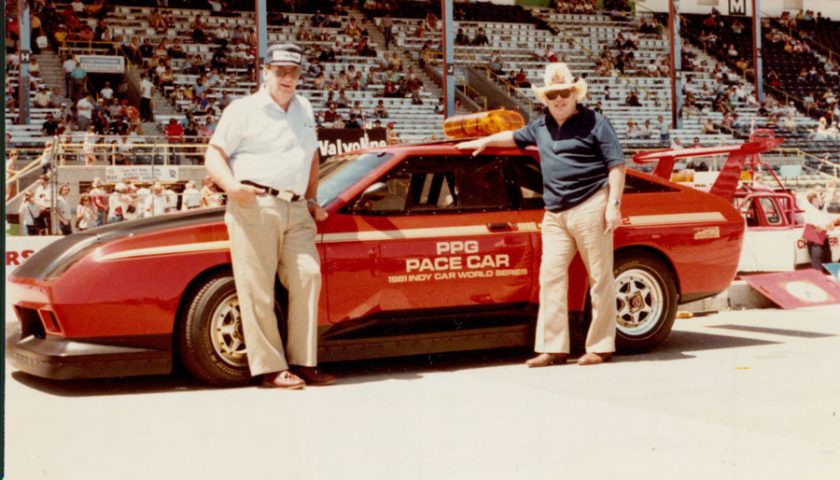 Dodge Omni 024 Charger 2.2 – 1981 PPG Pace Car
This one-off concept is still alive, in need of a restoration.
History
In the 80's, there was the Dodge Omni that most of us know- a compact 4-door hatchback built for economy. Shelby got his hands on some and built a hot hatchback with a cult following. But some early Omnis were labeled "024" and although built on the same chassis as the 4-door hatchback, received a sportier 2-door hatchback body with a more aggressive front end. They didn't sell too well, and in 1983 became known as the Dodge Charger. Before officially being named the Dodge Charger in '83, the Omni 024 had a $399 "Charger 2.2" option. That included a 2.2L engine rated at 84 HP. That brings us up to speed on this Pace Car – a heavily modified Omni 024 Charger 2.2.
Specifications
Most of the bodywork on the Omni is custom built for better aerodynamics. The front grille has been enclosed and the headlights covered. A custom lower air dam and side skirts bring the car closer to the pavement. The body has also been widened and a tall wing added to the rear. It appears the rear hatch is no longer operational, as the body lines are not there – probably sealed shut since fuel doors were added on top. The car sits on early Gotti wheels. Dual exhaust pokes out of the custom rear valence, right below the "Turbo" badge. I couldn't find any details on what's under the hood, but I'm sure a turbocharger was used to get that 83 HP number up higher.
Current Status
The PPG Omni 024/Charger 2.2 Pace Car was spotted sitting outside at a residential property and in need of a restoration.
Special thanks to Bill Behlman for sharing the early photos of this car.