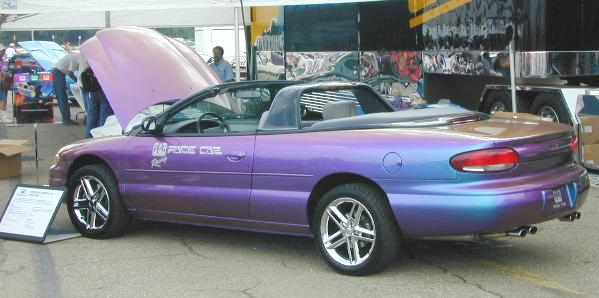 Chrysler Sebring JXI Convertible – 1997 PPG Pace Car
This custom Sebring wears PPG's Candy Pearlescent Blue paint. 
History
The Chrysler Sebring JXI Pace Car participated in the Cart-Fed-Ex Championship Series and some Nascar Races. It was the first car to use PPG's color shifting pigments, changing from Cyan to Purple, depending on the lighting and viewing angle. The paint would later be available to the public as the Harlequin lineup.
Specifications
The paint is PPG Candy Pearlescent Blue and was applied by Masco Tech Special Vehicles in Detroit, MI. The Sebring makes 225 HP @ 6000 RPM, thanks to a 24v MPFI 2.7L V6 with 9.5:1 compression ratio, built by Dynamic Speed & Marine. The car is equipped with a 5-speed manual transmission and 245/45R17 tires. Safety modifications include: custom styling bar enclosing a functional roll cage, dual halon fire suppression system, fuel cell, 4-point racing harnesses, and Brembo brakes at all 4 corners.
Current Status
Unknown. If anyone has any information on this vehicle, please share, as I'd love to add it to this page.
Special thanks to Lee Herman's Mopar Page for documenting the specifications online.