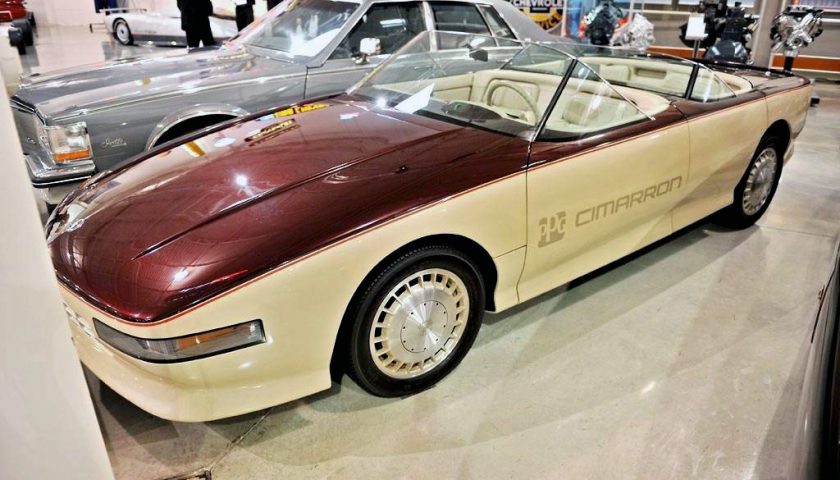 Cadillac Cimarron Dual Cowl Phaeton Concept – 1985 PPG Pace Car
This 4-Passenger, 4-Door, 2-Windshield concept featured technology from the future.

History
There's not much good to be said of the production Cadillac Cimarron. Meant to be smaller and sportier than the rest of the land yacht line-up to compete against european sedans, it was built on GM's FWD J-Platform (same as the Chevy Cavalier.) It was despised by the typical Cadillac buyer so much that the Cimarron was not even included in most of Cadillac's line-up sales brochures until near the end of its lifespan, when it was finally given a 130 HP V6 engine instead of the 88 HP Inline 4. By then it was too late and the Cadillac name had been tarnished. The Cimarron nameplate was done. Cadillac didn't attempt another smaller, sporty sedan in the US for another decade, when it released the Catera.
Specifications
This concept was built on the J-platform, making it FWD and powered by a multi-port fuel injected 2.8L V6. That's about where the similarities to a production Cimarron ended. That 2.8 sat under a one-piece clamshell hood. The body was completely custom, featuring a second cowl and windshield between the front and rear passenger compartments, a design tribute to the 1931 Cadillac Fleetwood Dual Cowl Phaeton.  The suspension used Delco Bilstein struts all around and rolled on custom 2-piece Alcoa wheels wrapped in 255/50VR16 Goodyear Eagle tires. The interior featured two integrated TV's for the front and rear passengers. There was a car phone with the microphone integrated into the steering wheel, to allow hands-free use while driving.
Current Status
The Cadillac Cimarron PPG Pace Car lives within the GM Heritage Center.