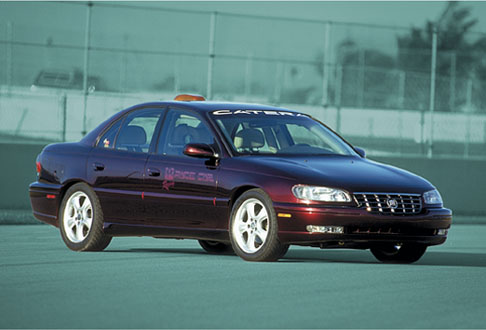 Cadillac Catera – 1997 PPG Pace Car
The Caddy that zigs… even more. 
History
The Catera was marketed as the "Caddy that zigs" to appeal to a younger segment, who wanted a smaller, sportier car than the rest of Cadillac's line-up. The PPG Catera Pace Car took it a step further with upgraded suspension, brakes, and more horsepower. The 1997 PPG Catera Pace Car served duty during the 1997 and 1998 race seasons.
Specifications
The first feature to be noticed is the Tri-coat Magenta Candy paint. Under the hood, a 3.3-liter DOHC, 24v V6 made 240 horsepower @ 6,000 RPM and pushed this Catera reach 150 MPH. (Factory Cateras maxed out at 125 mph.) The displacement and compression ratios were increased to gain the extra horsepower. (The factory 3.0L makes 200 hp.)  The rear axle ratio is 4.22:1. The suspension has upgraded shocks and springs. Brembo brakes were used to slow it down.  The car rolled on 17″ wheels with  255/45R17 shaved tires. Safety modifications include a full roll cage, 4-point safety harnesses, dual Halon fire control systems, 8-channel radio scanner tuned to race control and a special fuel cell. The Catera PPG also features a strobe light system that makes this pace car visible from every conceivable angle. 
Current Status
Unknown. If anyone has any information on this vehicle, please share, as I'd love to add it to this page.
More reading: https://www.autonews.com/article/19980511/ANA/805110709/catera-ppg-pace-car-zigs-to-the-racetrack