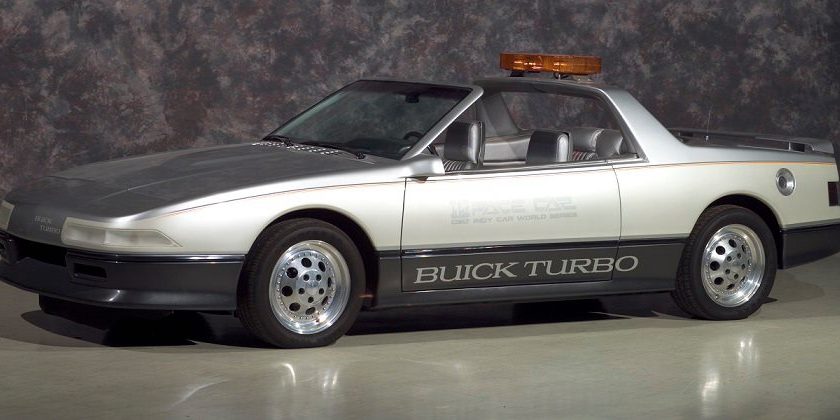 Buick Skyhawk Turbo – 1982 PPG Pace Car
This one-off concept car can be seen at the  Crawford Auto-Aviation Collection, in Cleveland, OH.
History
GM released the all-new Buick Skyhawk on the FWD J-Body chassis for 1982. The Skyhawk Turbo Pace Car's first track time was at the Budweiser Cleveland 500, on July 4, 1982. (Later to be named the Cleveland Grand Prix)
Specifications
Hardly resembling the production Skyhawk, this concept was transformed into a full-time convertible with body integrated roll bar. It appears that the tail lights might be the only unmodified piece of the exterior body. The interior was overhauled as well with custom seats, leather upholstery throughout, and a computer built into the dash. It's powered by a turbocharged Buick V6 with mechanical fuel injection, making 258 HP at 5200 RPM. The original Gotti J55A wheels were changed to a different design at some point. The tall light bar was replaced by a slim version (currently installed), although some photos have no light bar at all.
Current Status
PPG donated the car to the Western Reserve Historical Society and it can be seen in person in the Crawford Auto-Aviation Collection. The Buick's most recent photo is from the RADwood Exhibition in 2019.