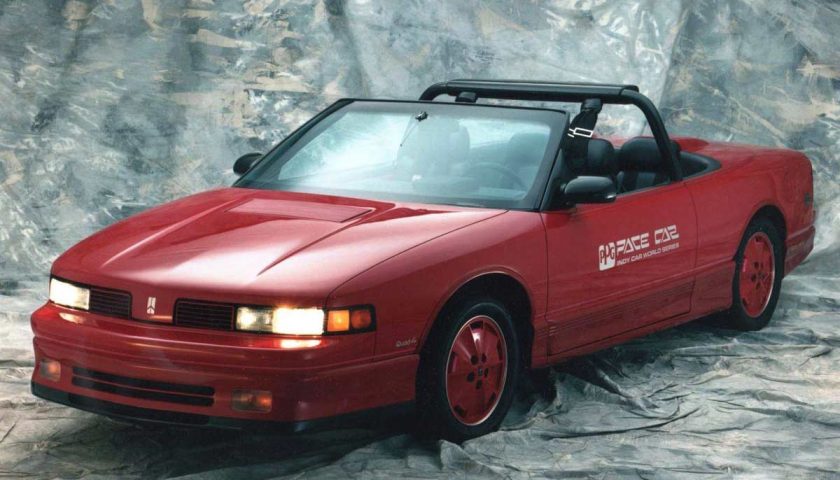 Oldsmobile Cutlass Supreme (Red) – 1988 PPG Pace Car
1 of 5 original Indy 500 Pace Cars, I'm told this is the Gold 1988 Cutlass Supreme Pace Car, before being painted. 
History
While the Gold '88 Cutlass Supreme Pace Car still is still alive, there is no information to show that this Red Cutlass Supreme Pace Car still exists, or if it happens to be the same car that was later painted gold.
UPDATE 7/20 – this car would later be painted gold with a newer front clip, making it the same vehicle as the other 1988 Cutlass Supreme. Thanks to Ken B, who inspected the car at the Champ Car Auction, for supplying this information!
The Gold car wears updated bumpers, headlights, side cladding, hood and grill. This Red Cutlass Supreme features the unique front air dam of the 1998 Cutlass Supreme Indianapolis 500 Pace Car, of which 5 were built, along with 50 replicas. I have reason to believe PPG received one of the original 5 Indy 500 Pace Cars to build this Pace Car. The roll bar looks identical and it's sitting on the same 16″ style wheels, although painted. (The gold car has the same roll bar and wheels -later painted gold- an argument that they are the same car, despite all the differences noted earlier. Although I have no photos of the Red Cutlass Supreme's engine bay, it does have Quad 4 badging. The 5 Indy Pace cars were turbocharged Quad 4's. I found documentation of the Gold Car once having a turbocharged Quad 4, but having the turbo removed to convert it to a naturally aspirated Quad 4.
Specifications
Unknown.
Current Status
Unknown.