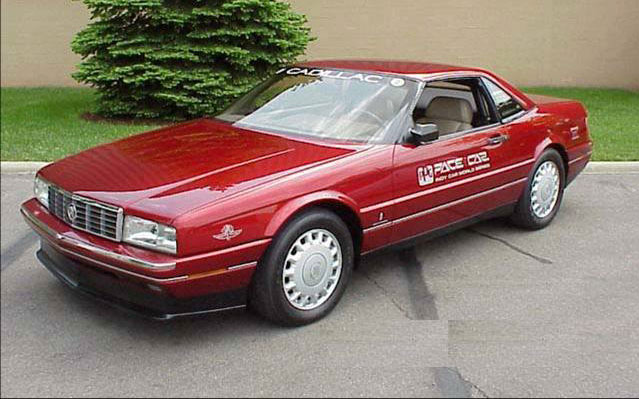 Cadillac Allante – 1992 PPG Pace Car
Unfortunately, this Pace Car met the crusher… UPDATE – or was it sold?
History
Called "the world's most powerful front-wheel-drive roadster", the Allante was powered by GM's new 4.6-litre Northstar V8 that turned out 290 hp and 290 lb-ft torque. The Allante paced the race in stock configuration, except for mandatory safety items. Three actual pace cars were built with these safety modifications, with an undetermined number of additional cars used for the 500 Festival Parade. (Updated 3/22/19)
Specifications
Unknown.
Current Status
The Cadillac Allante PPG Pace Car is said to have been crushed after being retired from the fleet. Judging from the last photo of the car in what appears to be a scrap yard, being crushed sounds line an accurate fate.
3/22/19 Update: While I read the car was crushed and found a photo of it in a scrapyard, I just found a 2009 Barrett Jackson Auction listing for the Allante, which sold for $62,700! Despite conflicting information, this one may still be alive. Perhaps there were two Allante Pace Cars? The vin for the one that sold at auction is 1G6VS3392PU100019.