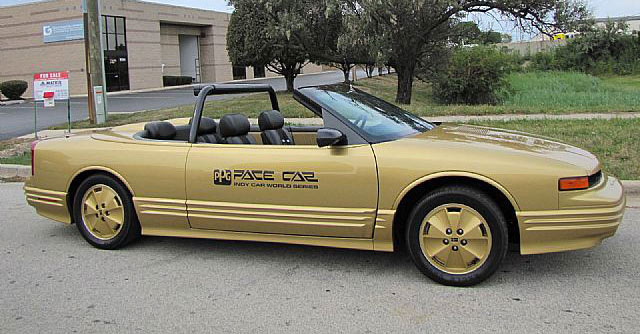 Oldsmobile Cutlass Supreme (Gold) – 1988 PPG Pace Car
This one has been retired to a private collection. 
History
Said to originally have been the backup #2 pace car of the Indianapolis 500, it was acquired by PPG after the 1988 season and eventually transformed into the one-off vehicle you see here. The car was first painted red and kept its original front facia and bodywork. Some time later the body work was updated and the car repainted gold as seen below.
Specifications
The 1988 Cutlass Indy Pace Cars were originally black. This one was repainted gold and the interior reupholstered to compliment the new paint. The dash is still the original Indy 500 dash. This car is a permanent convertible, with no retractable top or windows. A strobe was integrated into the functional roll bar. Other safety upgrades include: 5-point harnesses dual batteries, halon fire extinguisher system, fuel cell, main control system for fuel and brake cooling system. The Turbo Quad 4 engine was converted to a non-turbo Quad 4, while retaining the original 5-speed manual transmission. Having a VIN, 1G3WM14W3JD300029, this car could be registered and driven on public roads.
Current Status
This car was sold for $35,000 at an unknown date. I'm unsure of it's current status, but it most likely remains in a private collection.