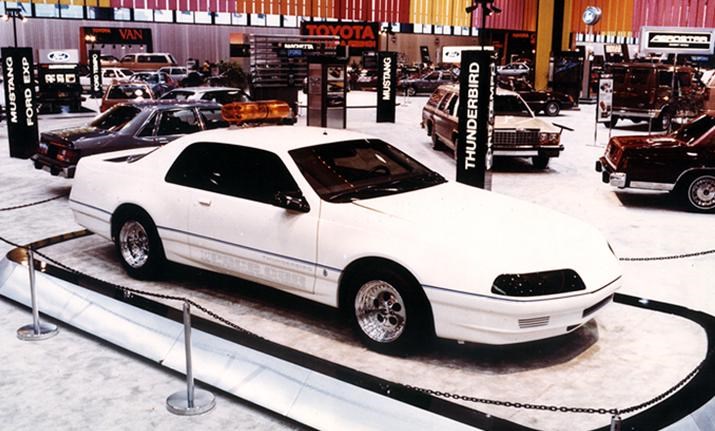 Ford Thunderbird – 1983 PPG Pace Car
Jack Roush had a hand in this PPG Pace Car concept and now it lives in his museum.
History
The first year of Ford's redesigned Thunderbird was 1983, transforming the car from a boxy land yacht to an '80s luxury sport coupe. This custom one-off concept was also introduced in 1983, with styling features that would be seen in much later Thunderbirds. As with many of the PPG Pace Cars of this era, most of the body was redesigned for better aerodynamics and was never available on production Thunderbirds. In addition to being shown at the 1984 Chicago Auto Show, the car also saw track use as a PPG Pace Car. At some point the front bumper and headlights were very slightly modified, as shown in the photos where the Thunderbird features a 2-tone paint scheme with orange stripe and square light bar.
Specifications
Painted in iridescent white, the front facia, side skirts and rear are one-off parts designed specifically for this vehicle. Note the flush tinted headlight covers for improved aerodynamics. While improving the looks of the vehicle, these modifications were functional for high speed use on the track. The engine was upgraded to a 400 hp V8 with a 5 speed manual transmission with the help of  Jack Roush. He tuned the Ford PPG Pace Cars of this era, including the 1983 Mustang Concept and this '84 Thunderbird. Other modifications are unknown.
Current Status
The 1983 Ford Thunderbird Concept can be seen at The Roush Automotive Collection, in Livonia, MI.