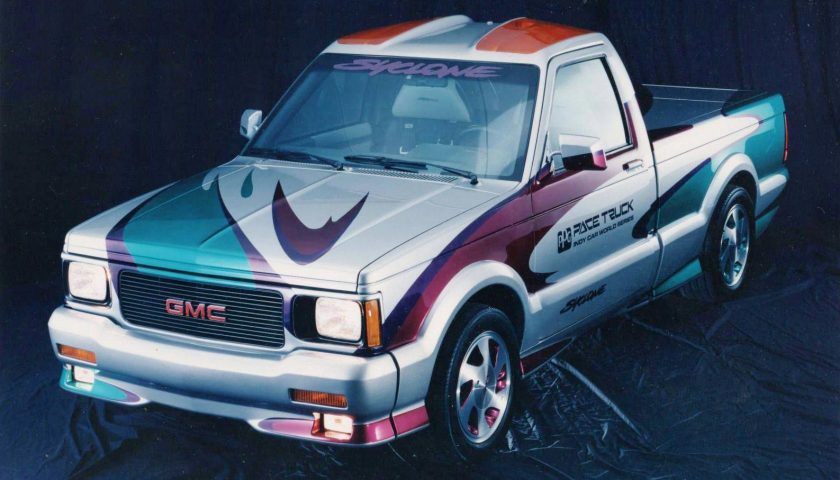 GMC Syclone – 1991 PPG Pace Truck
Faster than a Ferrari 348ts, yet lost the 1992 Indy 500 Pace Car bid to the Cadillac Allante.

History
The GMC Syclone was originally intended for the Indy 500. It was never used at Indy, being replaced by the Cadillac Allante, and it went on to the CART circuit.
It was retired to the GM Heritage Collection, until it was auctioned at Barrett Jackson in 2009, selling for $66,000. Although it has a vin, 1GDCT14ZXM8802268, it was sold with a scrap title because it was never intended to be driven on public roads. It had just 5,505 miles at the time.
Specifications
The turbo 4.3 V6 brought the truck from 0-60 mph in 4.3 seconds and could do the  1/4 mile in 13.6 seconds at 93 mph – and this is in 1991. That's faster than a Ferrari 348ts. Its 0-60 was also faster than the Corvette ZR-1 and the original Dodge Viper.
Like many one-off pace cars, there was a ton of work that went into this one, that many would never even notice. Halon fire suppression system (removed for safety), one off suspension, water cooled brakes, custom roof skin to accommodate the lighting system, modified bed, tailgate and tonneau cover.
The most obvious being the wild (although extremely 90's) paint scheme. The theory is that these were going to be the "Special edition" colors for the 1992 Syclones (Raspberry Metallic, Radar Blue, Ultra Silver, and Teal Metallic) – some of which made it to a couple production Typhoons.
Current Status
The GMC Syclone changed hands again in 2013, now owned by a collector and featured on his site, http://viewmyrides.com