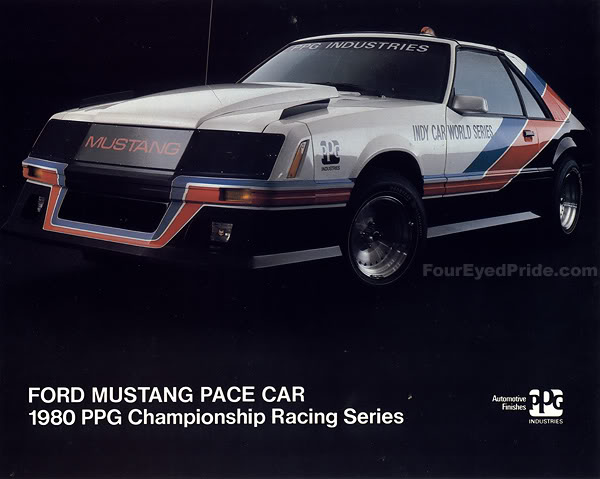 Ford Mustang – 1980 PPG Pace Car
This car was last seen in 2010, rusting away on private property, waiting to be restored. 
History
The T-top Mustang was one of four PPG Pace Cars built for the PPG Championship Racing League Series. (The other 3 cars were the Camaro, AMX, and Mirada.)
In 2006, the car was discovered by a member of the foureyedpride.com forums:
i bet half you guys dont believe this, but i just bought an 86 GT w/ 27k on it off an older fellow i work with. He has a bunch of mustangs sitting around and one tarped up. I heard him talk about this PPG car and how his kid is coming back from California to get it someday. I even looked at it a year ago when i originally looked at the 86….
anywho, i just realized how rare they were when i logged back into this site and saw the rare stang list. I saw the car, pretty much junk, w/ red, white, blue leather seats, almost positive it is the same car. I will try to get pics, info and a vin. but doubt he will part with it. Just a shame its in the shape it is……..
Four years later the owner of the PPG Mustang posted in the thread:
Well first off, I want to thank you for the interest, all these years in My 1980 PPG Pace Car. I will clarify the car as much as possible for you. I bought the car off of one of the Executive Vice Presidents of PPG, Harry Bittle. I was told about the car by a business associate back about 1984. I have a kit M81 McLaren, Black with gold trim. I used to autocross the car in the North Hills area of Pittsburgh. My business associate saw me one day with the McLaren, and remarked that his uncle had one too. I had him contact his uncle with the interest in buying a genuine M81 for my collection. When Mr Bittle called me, he informed me that it was not an M81 but a PPG Pace Car. The only thing that kept me from hanging up was that he stated it was a 1980 not a 1979. He explained who he was and that he had come by this car as part of his position. His son had driven it for about a year and had damaged the right fender and had lost the lower front air dam. He supplied the names of the companies that had built the car, including Mr. Wayne Gapp's phone number and the vin to have them identify. I was able to verify all the info concerning the car and money and title were exchanged. The car was almost lost later that year by my 18year old brother burning trash at my business; he caught the back end on fire. I placed the car in storage for about 18 years after that. It was kept dry and covered during that time. I was informed that the storage was not going to be available any longer and I had to move the vehicle to my parent's property in Valencia, Pa. I originally intended to pick it up later that year and move it to my home in Joshua Tree, Ca. But for family reasons, it remained covered outside for about three years at my parents. Then one of your members happened to spot it while trying to buy my brother's or dad's numerous mustangs. I was familiar with this site and wondered if anyone was actually looking for the car from time to time. I contacted the site admin and introduced myself as the owner and relayed part of the story. Well, it seems that it was just dismissed and noting became of it. A few years later, I again contacted this site and supplied the vin number and a little more details about the vehicle and my intentions concerning it. Now onto the present day. I have been collecting the parts I need to start the restoration on this one of kind beast. I still have not been able to locate or find out who was the manufacturer of the lower front air dam. It may have been a custom laid fiberglass piece. I'm looking for any info that the forum membership may have concerning this. The car is very restorable and I am involved in a number of projects. My latest project is called "Battle of the Builds". Three teams of US Military are customizing Scion XB's. The Marine Corps Team, I'm assisting are attempting to convert their XB into an "All Wheel Drive" rally vehicle. If anyone has any questions concerning the PPG Car, please feel free to contact me.
In other 2010 posts the owner stated:
The reason for keeping it under wraps the past couple years was my deteriorating relationship with my EX. won't go any further with that. I plan on doing most of the work at the 29 Palms Marine Base. I manage the Auto Hobby Shop/ Auto Skills Center. The car will be completly disassembled and dipped/ blasted. This will be a good project to start after I finish the "Battle of the Builds", that car is due to be completed by early October and be displayed at SEMA. It hurt to leave the car sit outside back in PA those few years and I kept having the parents try to keep it covered. I was not able to get back to PA due to work and a back injury that laid me up for over a year. As I get started, I will set up a site to document the restoration process and post updates.
Most of the sheet metal I have accumulated over the years. I think the roof will be saveable, but won't know until the car is completely disassembled and tanked. Things like the new original Koni shocks and body trim have been on my storage shelves for years. The interesting thing was that the ground effect rocker panels were only 22 gauge sheet metal and were not boxed in on the bottom. They were welded over the intact factory rocker panels and lower door panel and because they had no rust proofing, were almost completely gone when I bought the car. Very easy to remanufacture with a metal brake.
Specifications
The exterior featured a custom nose & grill, cowl hood, air dam, driving lights, and smoked plexiglass covers over the recessed headlights for a flush finish. The rear also had smoked covers on the lights, along the "Mustang" nameplate between them. The hatchback featured a custom, integrated spoiler. The body was painted red, white, blue and black Ditzler Duracryl Acrylic Lacquer and Deltron Acrylic Urethane Clearcoat.  The color scheme continued inside the car with matching custom seats. A built "Boss 302" producing 300 HP sits in the engine bay, mated to an automatic transmission.
Current Status
The owner's last post was in 2010 and information or photos of the car have not been posted since. I can only hope it's restored, sitting in a private collection. Please let me know if you have any information on this vehicle, as I'd love to add it to this page!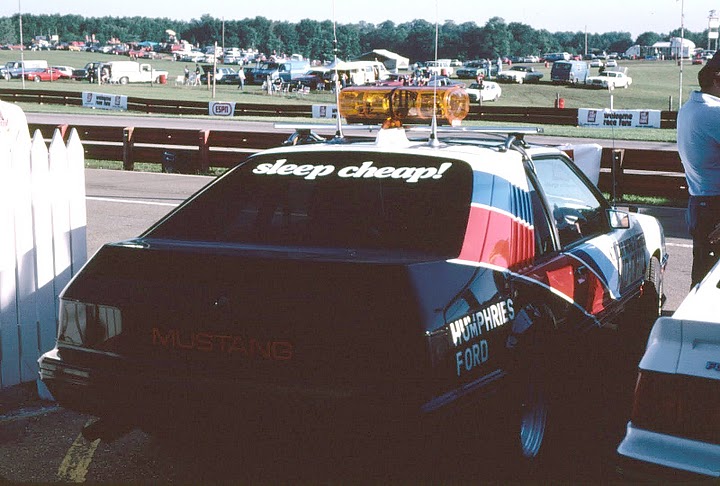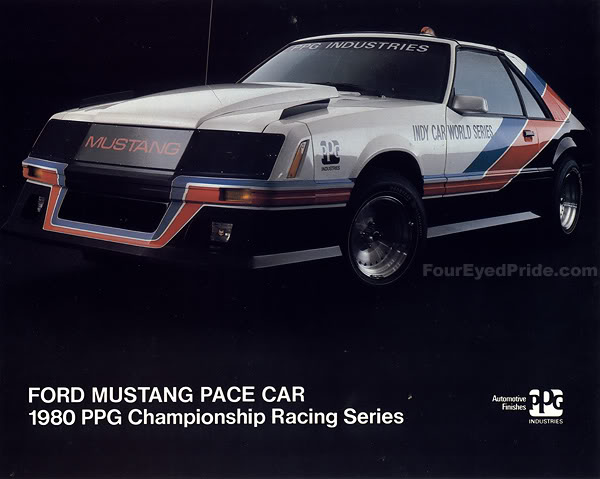 2010: