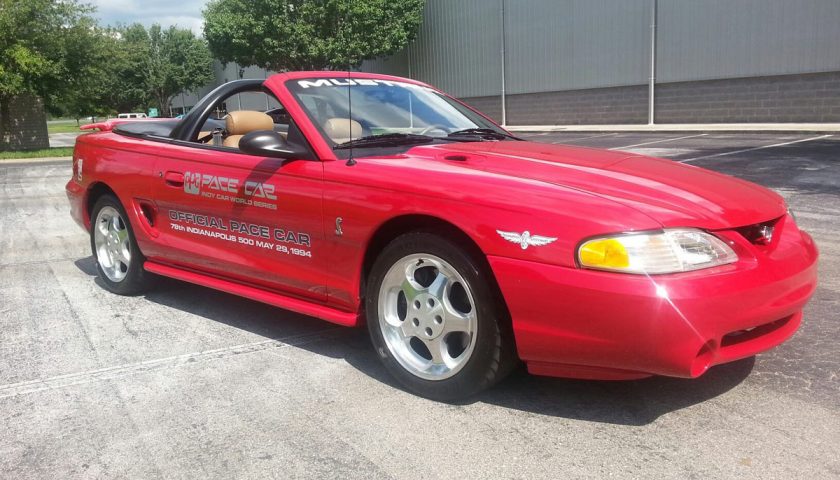 Ford Mustang Cobra (Red) – 1994 PPG Pace Car
An Indianapolis 500 pace car that actually paced the Indy 500.
History
Ford released a completely restyled car For the 30th anniversary of the Mustang, and was given the honor of pacing for the Indianapolis 500. This is one of 5 actual pace cars built for The 78th Indianapolis 500 in 1994. Ford would also produce 1,000 special edition replica convertibles for consumers. (Out of the 1,000 replicas, 122 were GT models (GT wheels and GT fog lights) that were used at the track as festival cars. The other 788 were SVT Cobra models with Cobra badging and SVT wheels.) This PPG Pace Car was not one of the replicas sold at dealerships.
Specifications
Prepped by Roush (and signed by Jack Roush himself) this Cobra has an upgraded fuel cell and fuel system. A crash bar was also added in the rear to protect the fuel cell in a collision. A Halon fire suppression system is mounted in the trunk, as done on all PPG Pace Cars. Cables and mounts for various TV cameras are located in the car, as well as a peep-hole out the back side of the trunk for a rear-facing camera.
The actual Indy 500 Pace Cars (not the 1000 sold at dealerships) were equipped with an automatic transmission. Also, this car has no catalytic converters.  (The Green 1994 Cobra PPG Pace Car used in the CART Series, rather than the Indy 500, was equipped with a 5-speed transmission.) The roll bar with integrated strobe light is identical to the one used in the Green Cobra Pace Car and is not commercially available as many of the styling bars which are commonly fitted to convertible Mustangs.
All 5 of the actual pace cars cars came with front bumpers that extended out forward about 6″ more than the later production cars, because when they began working on the pace cars, the Cobra was not yet in production. The front bumper was a prototype that they later made 6″ shorter in mass production. The original 5 are VIN'd as GT's not cobras. The wheel center caps on the actual 5 pace cars are stamped "*Caution* for prototype only" on the back. The tire graphic on the doors (replaced by "PPG Pace Car" on this Cobra) is white on the 5 actual pace cars and silver on replicas.
Current Status
With just 3600 miles on the odometer, this PPG Pace Car was purchased by a private collector in 2014.