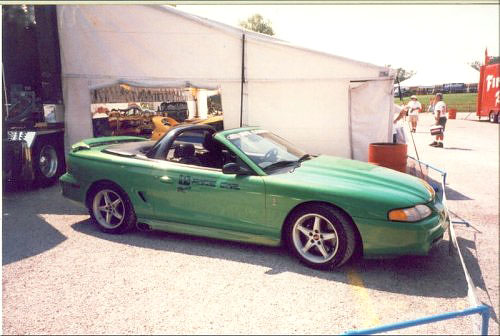 Ford Mustang Cobra (Green) – 1994 PPG Pace Car
Legend has it that this Mustang crashed into a barrier at Cleveland.
History
In 1994, Ford produced 1,000 Cobra Convertibles, all of which were red and had Indy Pace Car decals. This Cobra was provided direct from the Dearborn, MI Ford factory for PPG to produce a one-off Cart Series Pace Car.
While researching pace cars, I once read a post from a track worker at Laguna Seca that said a PPG Mustang Convertible Pace Car went off the track during a hot lap and hit a barrier. The driver and passenger were ok, but the car was damaged. This may be the Mustang Convertible.
7/2/19 Mike Sack, director of the PPG Pace Car program in the 90's, confirmed that this car was indeed damaged at Burke Lakefront Airport in Cleveland at the hairpin turn. The entire front end of the Mustang needed replaced, even the steering rack.
I only have 2 photos of the car in its early setup, with the stock interior, original hood & factory 17×8 Cobra wheels. In the photo parked in front of the hauler, the car is wearing the correct crystal clear Cobra headlights, which were only available on the Cobra. In the professional studio photograph (and every other photograph after the car was further modified with a Cobra R hood, Recaro seats and 17×9 Cobra R wheels) the car is wearing the plain fluted headlights from the Mustang v6/GT. This leads me to believe they were replaced.
One other interesting point is that the factory side skirt is missing from the studio photo. The factory side skirts had to go when the SVO side skirts were installed, as they replace them, but it's interesting that they would be missing without the SVO Borla Side exhaust kit yet installed.
Also note the steering wheel air bag is the GT/V6 type with the horse, instead of the one that says "COBRA," further indicating that this car was in a crash.
Specifications
The car was painted in a custom hue of green, with the inset areas of the OEM 17×8 Cobra wheels to match. Safety features included 5 point harnesses, a custom roll bar, fuel cell and a fire suppression system.
At some point, the wheels were replaced by 17×9 Cobra R wheels and the car was lowered, as seen in most photos. Other modifications include water cooled brakes, fuel cell, Saleen 200 MPH gauge cluster, cowl hood, SVO Borla side exhaust and Recaro racing seats. The original horizontal tail lights were replaced with the 1996-98 vertical lights.
Current Status
The Cobra PPG Pace Car was listed for sale in 2011. At that time it had 3800 miles and had never been titled. It is currently privately owned in KY, and is available for sale.