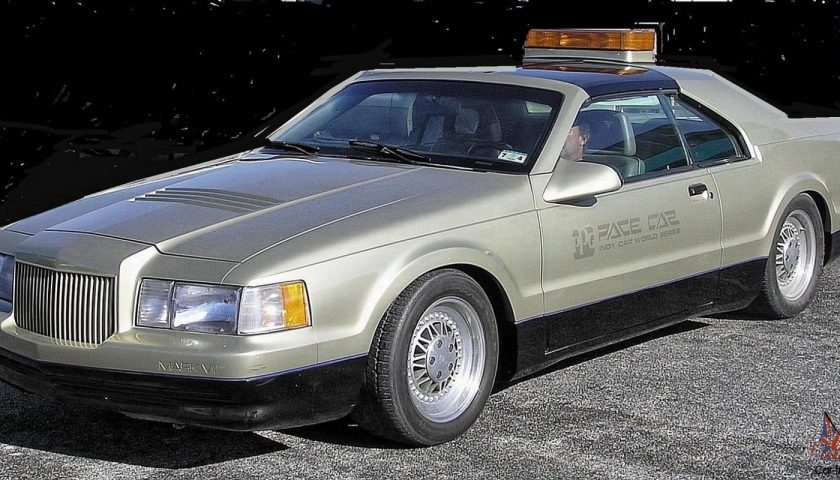 Lincoln Mark VII – 1984 PPG Pace Car
This was no ordinary Lincoln Mark VII: T-tops, raked windshield, and a 465 HP V8.
History
David Draper, the president of C&C, transformed a Mark VII into a PPG pace car for the Ford Motor Company's use on the Indy-car circuit.
Specifications
As with many of the PPG Pace Cars from this era, this Mark VII was not just a manufactured vehicle modified for track duty, but a fully functional concept car, years ahead of its time. There were no shortage of aerodynamic improvements, including a raked windshield, integrated rear window and deck lid area, bumpers seamless to the body, GTC ground effects, absence of fog lights, integrated side mirrors, smooth deck lid (they had a hump in the center from the factory.) If that wasn't enough, custom T-tops were added (because 80's… bring them back!) and a seamless transition between the side windows complimented those T-tops. Minor details include the center vented hood,"Mark VII" under the driver's headlight, removed fender moulding trim, and revised grill. The Mark VII rode on custom 2/3 piece wheels and has air suspension and upgraded brakes. It is powered by an ECS/ROUSCH built 465 HP Ford 395 cu. in. V8 with a  Holley 4 barrel Carb and mated to a 5-speed manual transmission.
Current Status
This car was for sale on ebay in early 2014, for the starting price of $55,000 (0 bids – reserve not met.) I'm unsure of it's current status, but it most likely remains in a private collection.
2/28/19 Update: The Mark VII is currently listed for sale with an asking price of $28,500.