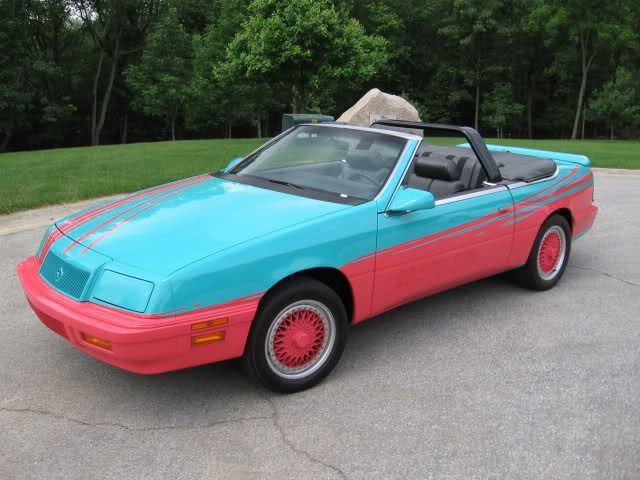 Chrysler LeBaron – 1987 PPG Pace Car
This mystery LeBaron was sought after by Mopar enthusiasts for years, and is now owned by one.
History
Purchased by an enthusiast at the Champ Car liquidation in 2008, it turns out that this LeBaron was the long lost #4 of 4 original Lebaron pace cars built for the Indianapolis 500. One was kept for the 500 Motor Speedway Museum, Chrysler kept one for the Walter P. Chrysler Museum, and the third ended up in Al Unser Senior's private collection.
The fourth LeBaron went to PPG, where they ultra-prepped and re-painted the car for the Champ Indy Car World Series Pace Car duties and used it to show/display their paint products. The car was then stored in PPG's Strongsville, OH warehouse, and was eventually sold at the liquidation sale in Indianapolis, when Champ Car was taken over by IRL.
Specifications
The LeBaron has received additional bracing underneath, as well as a functional roll bar with an integrated strobe. The rear wing also houses a strobe light. Inside the trunk are dual batteries, a fuel cell, and fire suppression system. The 236 HP turbocharged engine specifications are unknown, but a custom Walker exhaust is evident. Inside the car are custom gauges, racing harnesses for driver and passengers, and switches for fire, water cooled brakes, and strobes. The car sits on color matched 16″ BBS wheels.
Current Status
Privately owned. There's a full thread on Turbo-Mopar.com about the resurfacing, purchase, and details of this PPG Pace Car.